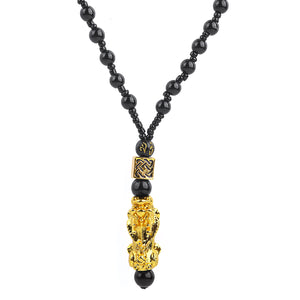 Pixiu is the symbol for unlimited wealth and the longer you wear this chain, the more you will acquire riches!
If you desire abundance in your life, this is the stone for you! The Gold Obsidian Pixiu Chain can bring good fortune, great health, and ward of evil spirits. It can even give you the promotion you have been waiting for!
Black Obsidian will help you stay grounded and focused. If your decision-making or the flow of thought has been impeded, this stone can cleanse negative energy that could be affecting it. 
The Black Obsidian is also a powerful protection against negativity and it helps boost practicality. It's like having someone who cares for you by your side at all times because it provides insight into what type of choices might work and not work well.